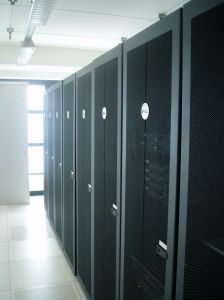 Data Center Information
You can be sure that you are getting the most reliable and secure services from compevo. Our reputation for superior services and uptime was built on superior infrastructure.
We operate out of the best multi-million dollar facilities in the world and stategically place and plan our deployments for superior uptime and reliability.
Prime Locations
We're neighbors with some of the best datacenters in the world including Google, Facebook, Disney and others.
Strategic Planning and Location
Facilities located out of high-risk disaster zones, but close to main fiber hubs.
Facilities located just outside of downtown cores (when possible).
Extra fuel stored close by.
Availability of power.
We Were Up But Was Your Datacenter?
Many clients turned to us for our expertise and services after they lost power in the Northeast Blackout of 2003 affecting over 55 million people in the Canada and the USA. All of our facilities remained online due to multilple diesel and UPS backup systems. In fact none of our facilities in the world have ever gone offline due to a natural disaster.
Here are a few key points that keep our services up and your data secure:
Redundant Power
Advanced Security System (including fingerprint scans and secure man traps)
Diverse Connectivity & Paths
UPS Power Backup
Diesel Power Backup
Fire Suppression
Air Conditioned
Raised Floors
Physically Secure